Galaxy A7 vs iPhone 6 Plus Which One You Should Prefer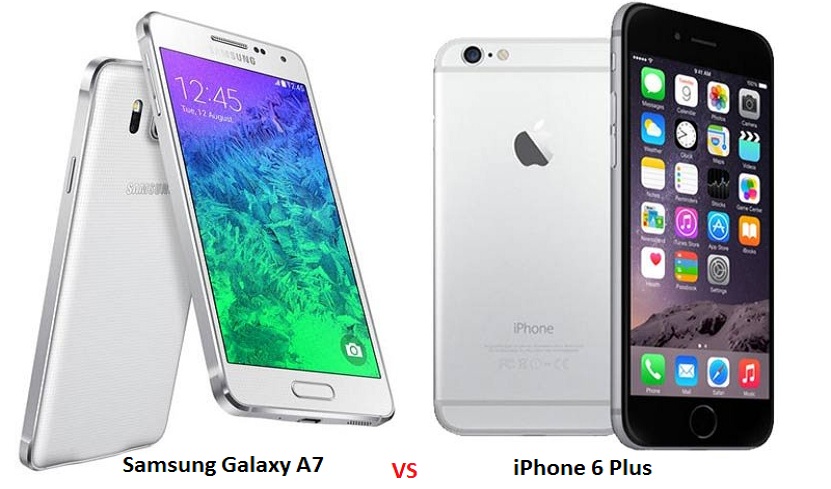 The recently launched iPhone6 plus which is the latest device from apple got a massive response after its release on September 19th of 2014 and now Samsung who has never been anywhere behind the competition has come up with an announcement of its latest device named Samsung Galaxy A7 whose release date has not yet been given out.
A7 is a premium and impressively stylish device making it a suitable competitor for the iPhone 6 plus. Both have pretty exciting and unique features making it a tough decision for the customers to choose one among them. But if you take a look at the specifications and functions of both of them and making a wise comparison you can settle with the device that suits your requirements more.
1) The Exterior Looks
# The apple iPhone 6 plus is an exceptionally good looking mobile with an aluminum frame on the exterior and a curved edge giving it a grand look from the outside and the A7 also being metal clad is less round at the edge.
# With the largest screen ever on an apple phone, the iPhone 6 plus has a 158.1×77.8mm wide screen and just 7.1mm thick it weighs about 172g, while the A7 gives a relatively compact built look at 151×76.2 and 6.3mm thick weighing around 141g.
# So probably iPhone6 plus gives a better look from the exterior design but A7 is shorter, slimmer and thinner.
2) The Display Screen
# The iPhone 6 plus comes with a 5.5inch 1080 x 1920 IPS LCD display with a 401 per inch pixel density and the Samsung A7 having a super AMOLED 5.5 inch 1080×1920 display with 401 pixel density.
# That means both the phones have the screen and resolution of exactly the same size but iPhone uses the IPS LCD which delivers a natural colours and good contrast while the A7 is likely to have brighter and richer colours with the super AMOLED screen.
3) The Interior Aspect
# The apple iPhone 6 plus holds a 1.4GHz dual-core apple A8 processor and 1GB RAM whereas the Samsung Galaxy A7 has a Snapdragon 615 processor for a dual SIM model and Exynos 5 processor for a single SIM.
# For the interior aspects and features it seems that the A7 will be more powerful than the iPhone 6 plus.
Don't Miss: The Latest Apple Watch: What You need to Know About it
4) The Camera
# The iPhone 6 plus is comprised with an 8 MP camera but can take extraordinary photos due to the optical image stabilization and a dual – LED flash and also capable of shooting 1080p videos at 60fps and a 1.2 MP front facing camera.
# And on the other hand the A7 has a 13 MP main snapper without an optical stabilization and a single LED flash and is limited to 1080p at 30fps with a solid 5 MP which is far more than the iPhone 6 plus front camera.
5) The Memory ,Battery Life And Connectivity.
# The iPhone can last up to 24 hours of usage or 384 hours that is 16 days of standby with a fair 2915mAH juice pack while A7 has comparatively lesser battery life of up to 2600mAH.
# The 6 plus comes with a number of options for the memory storage like 16,64 or 128GB which is not expandable and the A7 consisting of only a 16GB of storage along with a microSD card slot to support cards up to 64GB.
# The iPhone supports Wi-Fi,3G,4G and Bluetooth 4.0 while galaxy A7 along with all of these also supports NFC which is not available for the NFC chip and n\only used for Apple Pay.
From all these amazing specs and features the Samsung galaxy A7 looks like one of the most premium device they have produced and also a promising handset with a screen almost similar to iPhone 6 plus.
Probably if you are planning to buy one among these two amazing Smartphones and you are confused about the specs and difference, this content of comparison might help you to choose anyone that suits your lifestyle more.
Also Read: The Latest And Smartest Wristbands Of 2015
4593 Views | Date :February 10, 2016