Revenue Generated Android Kids Games Source Code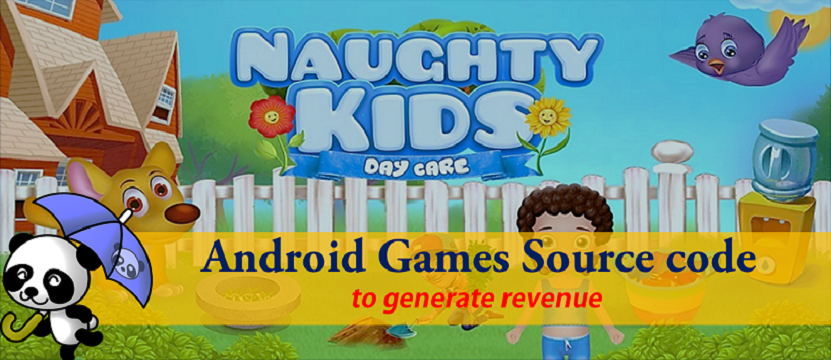 The kid's game had always been a huge trend on all the play stores. Their active and young mind keeps on searching for new variety of games with different activities and new way of having fun. That's why the requirement for the kids game in the play stores is always increasing. The educational games for kids will get them active with lot of fun tasks which will be helpful for their mind development also.
Creating an app related to the kids game is always a very good motive but it will take a lot of time to decide the type of game, and doing friendly design and animations that the kids will find attractive and many other problems. Also making an app out of scratch will cost you a very huge price and a long time to make. So to increase the speed rate of building your app SellMySourceCode brings you the best variety of user friendly kid's game source codes which you can easily edit by yourself to have it uploaded on to the appstore to start an income.
There are many source codes of android games for kids which were recently uploaded to SellMySourceCode. Go through the best of them which is as listed below.
The princess had gone for an adventure when she unfortunately meets with an accident with a tree. So now she needs and expert doctor to recover from the injury.
Features:
1) Remove the thorn from her legs with the tools.
2) Take an X-ray of her to see if there is any fracture.
3) Fix the injury of the broken bones in her body.
4) Put plaster at the broken body parts and put stickes.
There are many patients waiting for you to clean and cure the injury they have with their legs. They urgently need a doctor for help for their treatment. So help them as a leg doctor so that they can walk properly again.
Features:
1) Many different clumsy patients.
2) Use many different tools used by a doctor like stethoscope, X-ray and so much more.
3) Get your assistance by a nurse.
4) Perform the leg surgery and be a perfect doctor.
Play a lot of different games and do a lot of fun activities in this Virtual Panda game and have the joy of having your own panda as a pet. This virtual panda will be an amazing game for kids to learn and enjoy so many different things.
Features:
1) Do a lot of different activities and train the panda with lot of different tricks.
2) Feed the panda and also give him a clean bath to keep him fresh and healthy.
3) Play many different games like matching the items and many others.
4) A number of unique levels which is related to fun and education.
This is one of the best games for kids where they can explore their talent and skill to a new level. The principle theme of this game is pretty simple. Find out the set of given hidden objects at the scene within lowest possible time. You have to open your visual senses and concentrate to find them
Features:
1) The objects will be hidden in a tricky way. Find them with concentration.
2) Many difficulty level options from easy to hard.
3) Finish the levels within the given time limit to prove your strong visuals.
4) Use the hint if necessary for any kind of trouble in between.
5) Complete the level to improve and explore your skills.
There is a huge mess at the day care of the naughty kids. And now it is time to clean up all those mess with this naughty kids day care.
Features:
1) Choose the most adorable baby that you like.
2) Remove the thorns from their body and comb their hair to give them a nice look.
3) Clean the kids when they get dirty using some shampoo, soap and toothpaste.
4) Select from many different fashion accessories like shoes, glasses, etc.
These were just few of the amazing games for kids source codes for android devices but you can choose from many other categories of source codes of android games and apps from SellMySourceCode.
SellMySourceCode will always be available to those people who would like to build any kind of app or game by themselves and have it on appstore for a sure and successful business with those self-made apps or games. Also do have a look at the top iOS, Android and 3D games source codes.
1669 Views | Date :February 10, 2016